At the beginning of the 2022 new year, Cixi Huaxing Auto Electric Appliance Co., Ltd. received good news: with a professional R & D team, strong technical strength and continuous innovation ability, it successfully passed the recognition of a national high-tech enterprise in 2021 after months of application, strict review and evaluation.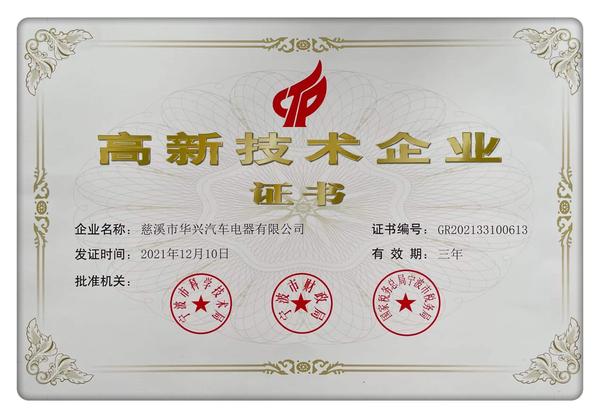 As one of the highest honors of national high-tech enterprises, the identification of "national high-tech enterprises" is guided and managed by the Ministry of science and technology, the Ministry of Finance and the State Administration of Taxation, which has strict requirements for enterprises. For more than ten years, high-tech enterprises have been highly valued by governments at all levels. Through a variety of policies and measures, they have encouraged and supported the development of high-tech enterprises. The certification of high-tech enterprises indicates that Huaxing Electric's organization and management level, transformation ability of scientific research achievements and products independently developed and produced have been recognized by the national science and technology department and are in the forefront of domestic peers. The title of "high-tech enterprise" approved by the state is not only an authoritative affirmation of the scientific research strength of the enterprise, but also another milestone in the development history of the company.
In the future, Huaxing Electric will continue to adhere to the vision of "a socially respected automobile generator manufacturing enterprise", adhere to the business philosophy of taking user value as the guide, and adhere to the mission of improving product quality and sense of use. Continuously improve the innovation ability and technology R & D ability of the enterprise, enhance the core competitiveness of the enterprise, and strive to become an industry-leading automobile generator manufacturing enterprise.